Ready to Transform Your Game Night? Just Add Wine!
We created Sommify as a way to have fun with your friends while accidentally learning how to blind taste like a sommelier.
Shop Now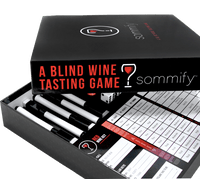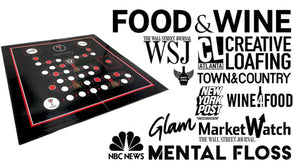 It's a Party in a Box!
Sommify loves to be on coffee tables, patios, picnic blankets, wine bars, and more! Grab a concealed wine from our Playable List and take turns being The Somm for the round. Your friends will guess your mystery wine.
No experience? No problem! Our game teaches blind tasting in minutes.
Shop Now
How it Works
• The "Somm" is the judge of the round and pours their mystery wine for all
• Players pre-call the grape and country of the wine using their Sommify Wine Key
• Players unlock Cellar Doors with wine calls to advance their pawn to the final zone and declare the grape and country
• The "Somm" reveals the wine and scores the round
Do I need to know anything about wine beforehand? 
Absolutely not! A love for wine and desire to learn helps. The Sommify Tasting Method is the simplest form of blind-tasting around and can be taught in 2 minutes, using the Sommify Wine Key. You'd be amazed at how many amateurs win the night.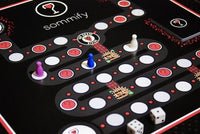 Created by Somms
Conner and Jessica Taylor created Sommify as a way to study for the Certified Sommelier exam. The traditional method of studying for blind tasting is joining tasting groups. Stuffy!
Why couldn't a tasting group be more like a boozy game night? 
Sommify uses the same classic wines seen on sommelier exams, so...
When you play our game, you're accidentally studying for the Somm Exam!
Our Story